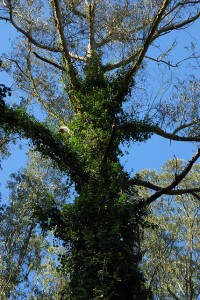 This coming Monday evening, BASE will be holding a free soundwalk hosted by Andrea Williams and Jeremiah Moore, in the urban forests of Mount Sutro in San Francisco.
Monday, July 18th 2011
meet at 6:30pm
walk departing promptly at 6:40pm
ending at approximately 8:30pm
(July 18th is World Listening Day, and the birthday of composer R. Murray Schafer)
Meeting point is the intersection of Parnassus and Medical Center Way. Â We will meet at 6:30 and depart promptly at 6:40.
Andrea will be holding a RED BALLOON.
This is a mildly strenuous 2-ish mile hike involving singletrack trail and a few stairs. You may wish to bring a snack and some water. Â The walk will not be wheelchair accessible.
Getting There
Here is a google maps link.
The starting point is on the eastern edge of the University of California San Francisco medical school campus, on Parnassus Ave. Â We'll meet on the corner of Parnassus and Medical Center Way. Â Medical Center Way is the small street which curves away behind the main UCSF campus.
By Car:
The walk will exit Sutro Forest at 17th Street and Stanyan. Â If you drive, you may want to look for parking in that area.
There is UCSF parking in the Millberry Union Public Garage at 500 Parnassus Avenue. Â For the 2+ hours of the soundwalk, parking there will cost you $10.50.
By public transit:
Take the N streetcar to Hilway Ave, right at the Medical School (transfer from BART at any market street station) and walk one block up to Parnassus and Hilway.  Walk a few hundred feet east. Alternately take Muni bus route 6-Parnassus which drops you off right at the corner of Parnassus and Hilway.  Again, walk a few hundred feet east.
—
Update: Â The soundwalk was a great success. Â We will be posting a reportage.
—
Forest Photo credit: Â http://www.flickr.com/photos/ericinsf/