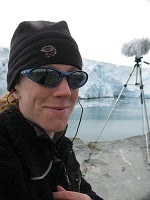 In 2009, Composer, performer, improviser, recordist and instrument builder Cheryl Leonard travelled to Palmer Station, Antarctica in search of sounds and music. She returned with a wealth of recordings, stories, and materials for building musical instruments. Cheryl shared her work at BASEbot on Feb 21, 2010.
In her own words, Cheryl "creates experimental music using amplified natural objects as instruments." If you want to get the drift, just imagine improvising a windswept landscape using a penguin bone screwed to driftwood, a contact mic, and a loop of light cotton rope. Or bowed limpet shells. Or evoking a flow of brash ice with resonant stones worn smooth by century after century of nesting penguins.
I encourage you to check out Cheryl's Antarctic Trip Blog. She's a fantastic storyteller, and there are a lot of great photos. Being a blog, the first page is the most recent, meaning it's about the gigs after the trip rather than the trip. So you might start with the First post and work your way forward.
Also see my BASEbot 005 photo set on Flickr.
Cheryl's main website is www.allwaysnorth.com She's got an an Antarctic field recordings CD called Chattermarks available for sale there. (or on iTunes)
Thanks to Dan and Sharon for hosting us!
-jeremiah